Access
Address
Hirano 2-509-3, Otsu, Shiga, 520-2113, Japan
Tel +81-77-549-8200
Fax +81-77-549-8201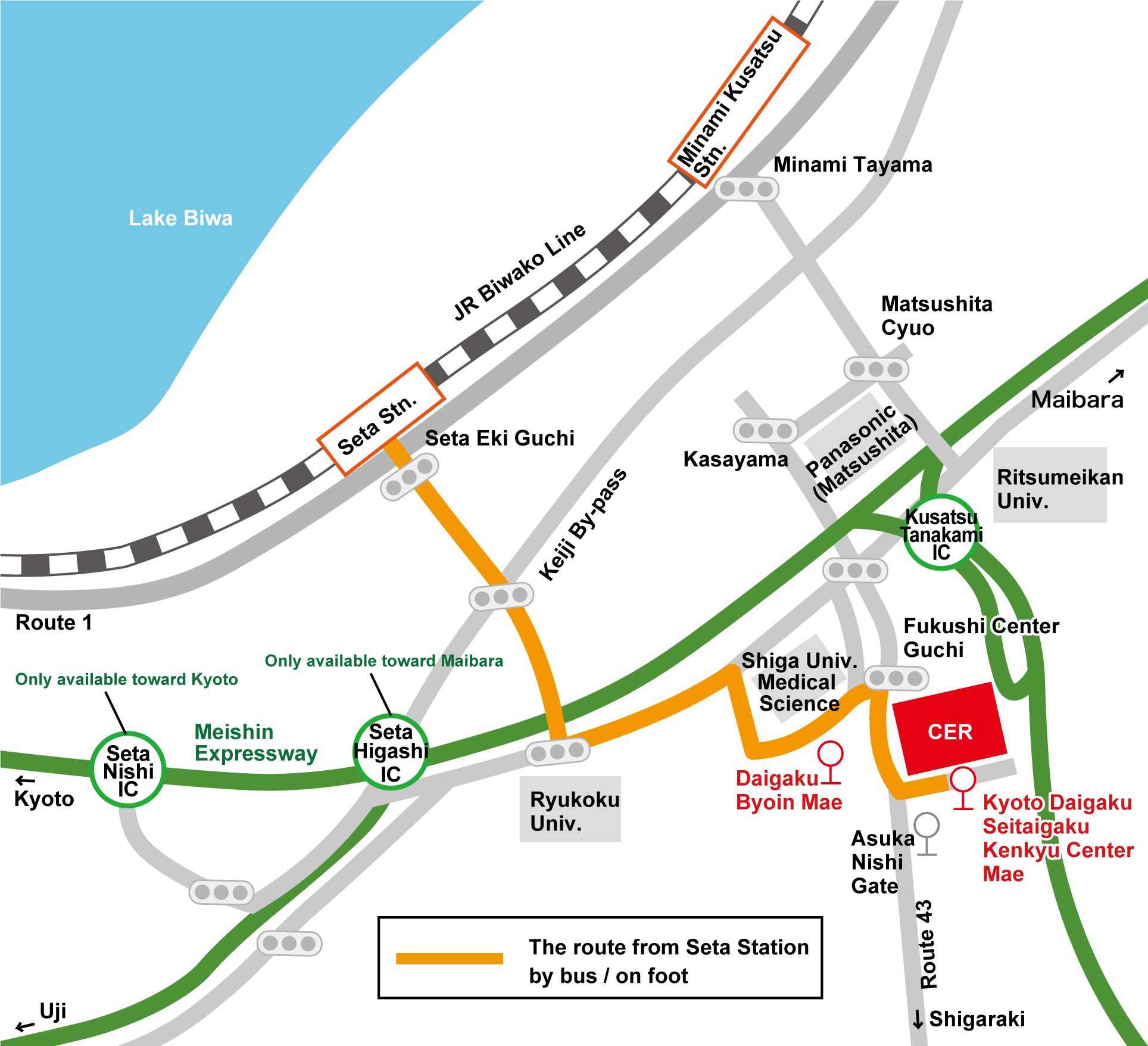 Access to CER
*From Seta Station of JR Biwako Line, take a bus of the following two routes.
(1)Teisan Bus bound for Daigaku Byoin (Shiga University of Medical Science Hospital) (No. 301)
Get off the bus at Daigaku Byoin Mae (the terminal in the hospital). You will get to CER after a 20 minutes' walk.
No. 301 Bus Timetable (revised Apr. 5, 2012)
Seta Station to Daigaku Byoin
Seta Station to Daigaku Byoin
Weekdays
Sat. Sun. & Hol.
6
37
6
7
07 15 35 50 55
18 38
7
8
00 05 15 20 30 35 47 55
05 13 43 47
8
9
05 26 40 50
02 27 45
9
10
00 15 30 45
00 15 30 45
10
11
00 30 45
00 30 45
11
12
00 15 30 45
00 15 45
12
13
00 30 45
00 43
13
14
00 15 30 45
00 15 45
14
15
00 45
00 45
15
16
15 45
15 30 45
16
17
00 45
30
17
18
00 15 45
00 15
18
19
15 45
00 30
19
20
00 15 30
00 30
20
21
00 30
00 30
21
22
15
22
(2) Teisan Bus bound for Tanakami Shako (Tabakami Bus Depot) (No. 101)
Get off the bus at Kyoto Daigaku Seitaigaku Kenkyu Center Mae, which is in front of the gate of CER. No. 101 Bus Timetable (revised Apr. 5, 2012) Seta Station to Tanakami Shako
Seta Station to Tanakami Shako
Weekdays
Sat. Sun. & Hol.
8
40
30
9
15
13
11
15
15
13
15
15
15
15
15
17
15
15
18
27
19
00
To Seta Station Bus Timetable from Daigaku Byoin Mae bus stop (revised Apr. 5, 2012)
To Seta Station
Weekdays
Sat. Sun. & Hol.
6
50
6
7
02 22 27 33 52 53 56
17 47 53
7
8
13 18 30 39 47 53 55
13 18 30 41 47 58
8
9
12 27 43
12 27 43 57
9
10
00 05 12 29 40 48
05 17 33 51
10
11
08 17 35 47 55
03 11 32
11
12
05 09 32 38 58
00 05 12 31 58
12
13
08 21 37 58
08 17 32 58
13
14
05 09 37 49
05 12 21
14
15
13 17 22 32 42 55
00 05 17 27 47
15
16
02 07 17 23 31 38 45
17 23 38 53
16
17
04 15 25 31 50 55
08 30 41 55
17
18
16 35 51
42
18
19
707 32 45
12 45
19
20
00 32 45
17 45
20
21
15 45
15 45
21
22
17 37
22
Kyoto Daigaku Seitaigaku Kenkyu Center Mae bus stop (revised Apr. 5, 2012)
To Seta Station
To Seta Station
Weekdays
Sat. Sun. & Hol.
7
49
10
2
2
12
2
2
14
2
2
15
14
2
16
14
14
17
52
52