»
Joint Usage / Collaborative Research
Joint Usage / Collaborative Research
The Center for Ecological research (CER) was established in Kyoto University to promote basic research and international cooperation in the field of ecology. CER is open to any scientists who conduct ecological research, and it offers exciting opportunities for research in a variety of areas in ecology. In 2010 CER was designated as a "Joint Usage/Collaborative Research Center for Ecology and Biodiversity Science". CER is equipped with the research facilities below for joint use.

If you intend to conduct some research(es) at CER, please identify at least one hosting CER professor, , discuss with her/him for preparation of research plan, download an application form by clicking below, appropriately fill it out and send the filled-out application form to kyodo-riyo[at]ecology.kyoto-u.ac.jp ([at] should be changed to @).
Research vessel "Hasu"
2020-4-09
Notice: temporary suspension of shared use using the research vessel "Hasu"
From April 10 to May 6, we will temporarily suspend joint use of the research vessel "Hasu".
| | |
| --- | --- |
| This high-speed vessel has been used for academic research, regular censuses and field courses in Lake Biwa. The 8.5-t vessel can navigate at the maximum speed of 20 knots and carry 20 persons. The late Prof. Denaburo Miyadi named the first research vessel "Hasu" after an endemic fish species in Lake Biwa, Opsariichthys uncirostris. This third research vessel has also inherited the name "Hasu". | |
Stable isotope analysis system
Stable isotope ecology is a research area that investigates food webs and material flows in ecosystems based on the ratio of stable isotopes. The techniques of the stable isotope analyses have been developed in Geochemistry. Their ability to track changes and processes over time has made them increasingly important to ecological research.

To the Website of Stable Isotope Ecology at CER
DNA and protein analysis systems
Ecological research using molecular biology methodology dealing with nucleic acids is getting popular, and popular. DNA analysis systems consist of polymerase chain reaction cyclers, DNA sequencers, and gene expression analyzer (LightCycler). Protein analyzer,s include protein sequencer,, amino acid analyzer, , freezing microtome, and gas chromatography mass spectrometer..
CER experimental field
The experimental field consists of Experimental garden-1 and 2, Arboretum-1, 2, and 3, CER forest, Experimental pond, and Pot shelves. They are used to grow plants or fish, and for field experiments.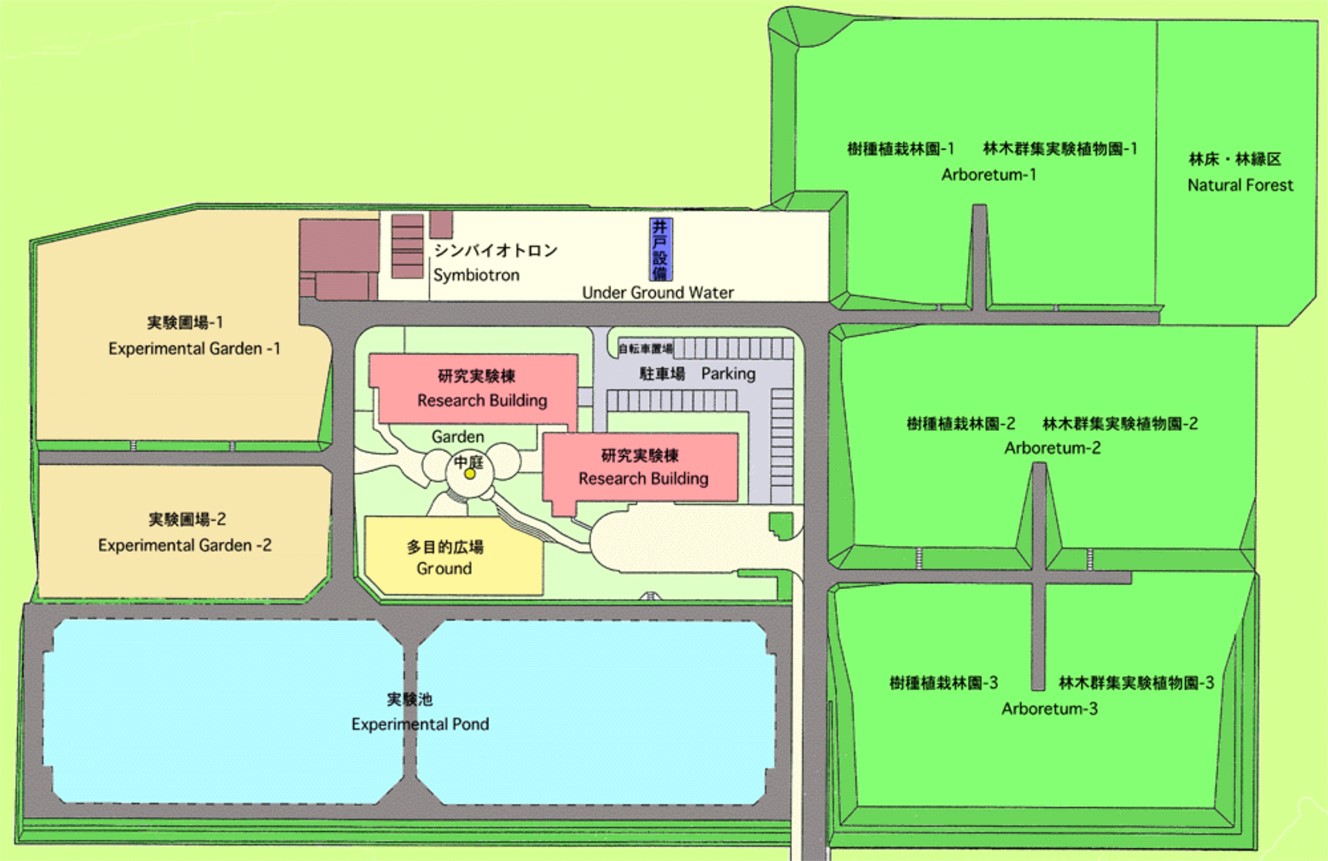 Symbiotron
A Symbiotron system was installed to conduct experiments under perfectly controlled environments.
DASH (Development and assessment of sustainable humanosphere)
This system was installed at Research Institute for Sustainable Humanosphere (RISH), Kyoto University by budgetary request in 2007 (by CER and RISH). It is a system that integrates a large-scale greenhouse compatible with genetically modified plants and equipment for intensive evaluations.