»
マクロ生物学百花繚乱2018~アジアの生物多様性~ Symposium of Integrative Biology: Biodiversity in Asia
マクロ生物学百花繚乱 ~アジアの生物多様性~
Symposium of Integrative Biology: Biodiversity in Asia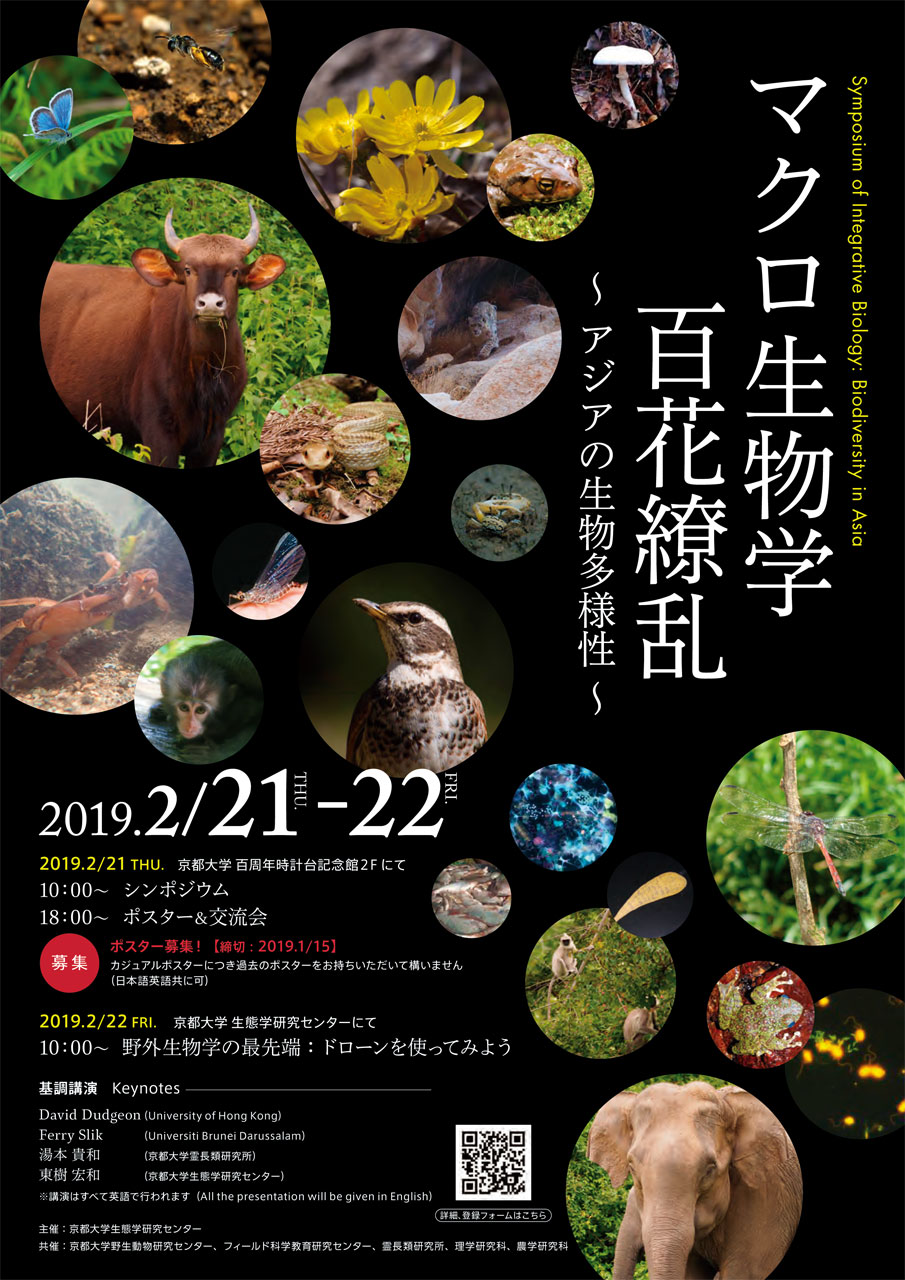 flyer (PDF): Japanese / English
参加無料;Free Admission*
*We may ask for some donations for the party
系統学、行動学、生態学、霊長類学、、、普段部局や学会という単位で区切られてしまい、同じ様に生物が大好きなのに交流する機会がないマクロ生物学者。もったいないじゃないですか。なんかようわからんけど集まって仲良くなってなんかおもろいこと考えましょう。それは、ひいては複雑な自然を真に理解することを助けてくれるはず。アジアの生物多様性を考える上で、それほど重要なことはないはずです。
マクロの京大とも呼ばれる京都大学に好き勝手あちこちに散らばるマクロ生物学者をかき集め、更にアジアのマクロ生物学をリードする7名の研究者を招聘してアジアの生物多様性について語り合います。シンポジウム後にはどなたも発表いただけるカジュアルポスター発表会&懇親会を予定しています。
生き物好きこの指とまれ!みなさんの積極的な参加をお待ちしております。
The primary goal of this symposium is to gather and help networking among variety of field biologists. Interdisciplinary approach produce interesting and innovative science, and also would help tackling to entangle the complicated natural ecosystems. Kyoto University is proud of the rich group of field biologists. We hope this symposium would initiate more interactions among scientists across disciplinary and across countries.
Program
21 February, 2019 (Crock Tower, Kyoto University)
Opening Remarks
10:00-10:10
Shinnichi Nakano
Center for Ecological Research, Kyoto University
Keynotes
10:10-11:05
Ferry Slik
Universiti Brunei Darussalam
Pantropical tree floristics and diversity patterns
11:05-12:00
Hirokazu Toju
Center for Ecological Research, Kyoto University
Designing ecosystems with core microbiomes
10 min break
12:10-12:30
Ryutaro Goto
Field Science Education and Research Center, Kyoto University
Diversity and evolution of spoon worms and their associated fauna
12:30-12:50
Sanjeeta Sharma Pokharel
Indian Institute of Science
Lower levels of stress in crop-raiding Asian elephants: diet as a potential 'pacifier
Lunch time
Keynotes
14:00-14:55
David Dudgeon
University of Hong Kong
The next great extinction?  The challenge of conserving freshwater biodiversity  in a rapidly changing world
14:55-15:50
Takakazu Yumoto
Primate Research Institute, Kyoto University
Asian tropical forests and plant-animal interactions
15 min break
16:05-16:25
Fan Pengfei
Sun Yat-Sen University, China
Ecology and Conservation of the Skywalker Hoolock Gibbon
16:25-16:45
Satoshi Nakagawa
Department of Agriculture, Kyoto University
Deep-sea vent bacteria: who's there, what are they doing, and what's new?
16:45-17:05
Raghavendra Gadagkar
Indian Institute of Science
Beyond Species Diversity – Measurement and Apportionment of Behavioural Diversity in the Primitively Eusocial Wasp Ropalidia marginata
17:05-17:15

Announcement for the drone workshop

17:15-17:30
DIWPA, NIE introduction
room-arrangement
Group Photos
18:00-20:00
Posters & Mixers
Call by 1/15
22 February, 2019 (Center for Ecological Research, Kyoto University)
10:00-10:20
Tour for the CER

Research talks with Drones

10:20-10:40
Wataru Mamiya
Uryu Research Forest, Hokkaido University
Efforts for Drone utilization in Hokkaido University Experimental Forest
10:40-11:00
Cuong The Chu
Vietnam Academy of Science and Technology (DIWPA)
Unmanned aerial vehicles (UAVs) for surveying marine ecosystems in Vietnam: a case of seagrass beds in Phu Quoc island and My Tuong areas
11:00-11:20
Satoshi Hirata
Wildlife Research Center, Kyoto University
Use of drones in animal behavior research
11:20-11:40
Sung Je LEE
National Institute of Ecology, Korea
Ecological and Natural Maps : Conservation of Biodiversity
11:40-12:00
Sohei Kobayashi
Disaster Prevention Research Institute, Kyoto University
Using drone for river surface envrionmental surveys
12:00-12:20
Tomoichiro Tanaka
Tanaka Sanjiro CO.,LTD.
Radio telemetry combined with drone technology to replace the manual tracking method
Lunch time
13:00-16:30

Drone workshop
ポスター募集!Call for Posters!
カジュアルポスターにつき過去のポスターをお持ちいただいて構いません(日本語英語共に可)
As this is supposed to be a casual poster session, you may bring in your past posters. (Either English or Japanese is OK.)
締切:2019年1月15日(火) Deadline: 15 January 2019 Deadline extended
締切:2019年1月31日(木) Deadline: 31 January 2019(好評につき延長いたしました。)
下記リンク先の登録フォームからご応募ください。Application Form.
https://goo.gl/forms/0p3sVczCks8ElOdY2
---
ドローンワークショップ参加登録
Registration form for the drone-workshop
ドローンワークショップ参加希望の方は、下記登録フォームからの事前登録をお願いしたします。
(参加人数を把握するためで定員・締切は設けておりません。早めに登録をしていただけると助かります。)
If you are interested in the drone workshop on February 22, please register from the registration form below.
https://goo.gl/forms/st9TNaioaHpnuug22
---
Confirmed poster presentations
| Name | Affiliation (For people in Kyoto University, please write the university and department for statistics) | Poster title |
| --- | --- | --- |
| Hiromi Uno | Center for Ecological Research, Kyoto University | Amphidromous shrimps in the stream ecosystem |
| Tzu-Hao Lin | Japan Agency for Marine-Earth Science and Technology | Listening to the ecosystem: a integrative approach of informatics and ecoacoustics |
| Wanyi Lee | Primate Research Institute/ M2 student | Gut Microbe Shift of Japanese Macaques as a Result of Human Encroachment |
| Sayumi Yamada | Graduate School of Life Sciences, Tohoku University, | Death feigning by littral cladocerans contribute their survival rate |
| 長縄 秀俊 (Hidetoshi NAGANAWA) | 岐阜大学大学院連合農学研究科 (The United Graduate School of Agricultural Science, Gifu University, Japan) | メスの体内で精子をつくる不思議な動物―カブトエビ |
| Harold Buenvenida | Capiz State University | The Mangroves of Capiz: A Natural History |
| HAROLD O BUENVENIDA | Capiz State University | Malacological Assessment of Economically Important Shellfish in Capiz, Panay, Western Philippines |
| Kohmei Kadowaki | Kyoto University | Limited dispersal sustains cooperation in evolving microbial metapopulations |
| Shintaro Ishizuka | Primate Research Institute | Rank-related success for protection against the cold in monkey huddles |
| Gaku Amada | Kyoto University, Agriculture | Ecological significances of leaf trichomes in Metrosideros polymorpha |
| Hikaru Wakamori | Primate Research Institute, Kyoto University | どのような「しっぽ」をお求めですか?ー生物の身体は物理的最適解の形態をしているのか?- |
| Shohei SHIBATA | Primate Research Institute, Kyoto University | Fission and Aggression among male chimpanzees in Kalinzu Forest Reserve, Uganda |
| Kobayashi Keito | Kyoto university | タケ類ハチクの生活史 |
| 武富晋太郎 | 神戸大学大学院 理学研究科 | 菌従属栄養植物における宿主特異性の収斂進化のパターンとその至近要因 |
| Dian Rachmawati | Institut Teknologi Bandung | Species Richness of Soil Mesoarthropods and Soil Respiration in Coffee Plantation |
| Ryosuke Nakamura | Forest Sciences, Graduate School of Agriculture, Kyoto University | Silicon release from leaf litter of six tropical tree species during decomposition |
| Weerach Charerntantanakul | Kyoto University, Graduate School of Global Environmental Studies | Conflicts in the Yanbaru: Tankan Orange Farmers and Wildlife in Northern Okinawa Island |
| Kodzue Kinoshita | Wildlife Research Center, Kyoto University | Field-friendly法を用いた野生動物の迅速ホルモン分析手法の開発 |
| Omweri Justus Ooga | Field Science Education and Research Center KYOTO UNIVERSITY | Flexible herbivory of the mysid Neomysis awatschensis (Brandt, 1851) in the Yura River estuary, central Japan |
| Hideki Sugiura | Wildlife Research Center, Kyoto University | Preliminary survey of camphor plantation by drone in Yakushima Island |
| Tati Suryati Syamsudin | School of Life Sciences and Technology, Institut Teknologi Bandung | Contribution of Imperata cylindrica on soil quality indicate by diversity of soil macrofauna |
| Tomoaki Muranaka | Center for Ecological Research, Kyoto University | 野外RNA-seqで取得した遺伝子発現の日周・季節変化を要約する方法 |
| Akihiro Yoshikawa | Seto Marine Biological Laboratory, Field Science Education and Research Center, Kyoto University | Morphological adaptation and habitat preference in the slipper limpet Ergaea walshi (Gastropoda: Calyptraeidae), a facultative associate with hermit crab living inside gastropod shells used by hermit crabs |
| Chiharu Endo | Laboratory of Animal Ecology, Department of Zoology, Kyoto University | Feeding performance in relation to continuous mouthpart variation in a single population of the pike gudgeon <i>Pseudogobio esocinus<i/> in Lake Biwa |
| Hirofumi KAJINO | Kyoto Univ. graduate school of agriculture | Relationships among Si accumulation, shoot growth and light environment in Broussonetia papyrifera (Moraceae) |
| Takahisa Ozaki | Shinshu University | 高山植物コマクサの生物系統地理学的研究 |
| Kudoh A, Minamoto T, Yamamoto S | Kyoto Univ. Dept. Agr., Kobe Univ., Kyoto Univ. Grad. Sci. | 食痕由来の環境DNAによる植食性昆虫の同定 |
| Achmad Gazali, M.Sc | University of Alghifari, Indonesia | Biodiversity And Dominance Of Insects Species on The Organic And Conventional Strawberry Farms In Kopeng, Semarang, Indonesia |
| Tomoyuki Tajima | Graduate School of Science, Kyoto University | Male Reproductive Success in Bornean Orangutans |
| Hiroshi Kudoh | Center for Ecological Research, Kyoto University | Characterization of underground stolon 'rhizome' by transcriptome analysis. |
| Liesbeth Frias | Kyoto University Primate Research Institute | Parasites as neglected components of biodiversity |
| Monamie Ringhofer | Institute for Advanced Study, Kyoto University | Decision making of mares reacting to the stallion's herding in a harem group of feral horses (Equus caballus) |
| 井上漱太 | Wildlife Research Center | Differences in spatial positioning of individuals among horse groups |
| Ayaka Kanaike | Kyoto University, Graduate School of Global Environmental Studies | Roosting behaviors and roost characteristics of two parakeet species in Singapore |
| 荒木 希和子 (Kiwako S. Araki) | 立命館大学・生命科学部 | トランスクリプトームに基づく地下茎メリステムの季節変化 |
| 湯本原樹 | Center for Ecological Research, Kyoto University | アブラナ科多年草ハクサンハタザオにおける葉面クチクラワックス量の標高二型とその機能 |
| 木庭啓介 | Center for Ecological Research | 生態学研究センター安定同位体生態学共同利用システムの紹介 |
| Giovanni Forcina | Wildlife Research Center, Kyoto University | MOLECULAR PHYLOGEOGRAPHY AND MUSEUM SPECIMENS: THE CASE OF THE BLACK FRANCOLIN (Francolinus francolinus) |
| Kami Chitose | Center for Ecological Research, Kyoto University | Analysis of seasonal synchrony system for flowering and senescence in Arabidopsis |
| MARRE | Center for Ecological Research - Kyoto University | Microbial diversity of Mallotus japonicus stigma, an ambophilous plant |
| Mie N. Honjo | Center for Ecological Research, Kyoto University | 季節環境がもたらすウイルスー宿主の長期共存機構 |
| Yayan Wahyu C. Kusuma | Laboratory of Forest Biology, Graduate School of Agriculture, Kyoto University | Species delimitation of the parasitic plants Rafflesia spp and insight on their genetic diversity and structure |
| 松山秦 | 生態学研究センター | Roles of enhanced mesophyll conductance on leaf gas exchange in drought-adapted tree species in the Ogasawara (Bonin) Islands, Japan |
| Yuiko Noguchi | Graduate School of Agricultural Science | Height-related changes in hydraulic structure of Old and Mature C.camphora trees |
| Mariko Kawamura | Seto Marine Biological Laboratory, Field Science Education and Research Center | Life history of a giant jellyfish Nemopilema nomurai from East China Sea and Sea of Japan |
| Yutaro Fujimoto | Graduate School of Agriculture, Kyoto University | Community-ecological analysis of lianas in a seasonal evergreen forest in northeastern Thailand |
| Mayako Fujihara | Wildlife Research Center, Kyoto University, | JSPS Research Fellow |
| 山崎遥 | 信州大学院 総合理工学研究科 | 渓流棲哺乳類カワネズミの糞を用いた系統地理学的研究 |
| 伊藤真 Makoto M. Itoh | Kyoto Univ. Graduate School of Global Environmental Studies (地球環境学堂) | 近縁種の求愛拒否音声を真似して交雑を防ぐナゴヤダルマガエル |
| Hiroshi Inoue | Agriculture, Department of Applied Bioscience | Food habits of deep sea in the Sea of Japan |
| Alisa Kutzer | Graduate School of Global Environmental Studies, Aquatic Environmental Biology | Foraging of Japanese eel between salinity boundaries revealed by stable isotope analysis |
| Haruhi Nonaka | University of the Ryukyus | The trade-off between foraging performances in an ant community |
| 蔡 吉  | 生態学研究センター | 琵琶湖に生息するピコシアノバクテリアの生態 -摂食者による影響に注目して- |
| 百瀬 加奈子 | 信州大学院 総合理工学研究科 | 中部山岳地域におけるキイロヒラタカゲロウの系統地理学的研究 |
| Daiki Yokoyama | Graduate School of Agriculture, Kyoto University | Soil microbial turnover as a P source supports gigantic lowland tropical rainforests in Borneo |
| Nuria Jiménez Elvira | Center for ecological research | The effect of copper contaminated soil on Ptychostomum capillare, a resistant moss species and its phytoremediation potential. |
| Shoko SAKAI | Center for Ecological Research, Kyoto University | Forty Years of Forests in Rural Villages Revealed by Land-cover Maps andSocial Surveys in Borneo |
| Shigeto Dobata | Graduate School of Agriculture, Kyoto University | Regulatory mechanism predates the evolution of self-organizing capacity in simulated ant-like robots |
| 黒川瞬 | 高知工科大学 | 相手の行動に関する情報が不完全な状況における協力行動の進化 |
| 竹重龍一 | 農学研究科地域環境科学専攻森林生態学分野 | ボルネオ熱帯低地林における伐採後地上部バイオマス回復速度の空間変異 |
| Mao Asami | 京都大学 霊長類研究所 | 中国広西壮族自治区から産出したマカク属遊離歯化石 Isolated teeth fossils of Macaque from Guangxi region, China |
| Sigaud Marie | Primate Research Institute | Sex-based behavioural strategies in a nocturnal primate species, the Javan slow loris |
| Annegret Moto Naito | Wildlife Research Center, Faculty of Science, Kyoto University | Individual identification and evaluation of genetic diversity of the endangered Japanese golden eagle using microsatellite markers |
---
主催:京都大学生態学研究センター
共催:京都大学野生動物研究センター、フィールド科学教育研究センター、霊長類研究所、理学研究科、農学研究科
実行委員:宇野裕美(生態研)中野隆文(理・系統)高山浩司(理・植物)中川聡(農・海微)木下こづえ(野生動物)小林和也(フィールド)半谷吾郎(霊長研) 木村雅美(事務担当・生態研)